B&G Zeus³ 7 Multifunction display 7 "
Zeus³ is a complete chartplotter navigation system dedicated to boaters and racers. Provides extraordinary performance
Zeus³ is a complete chartplotter navigation system dedicated to boaters and racers. Available in a range of screen sizes from the compact 7-inch up to the new 16-inch, these ultra-bright, wide-angle displays combine all-weather touchscreen technology with one-dial and keypad controls. They easily integrate sailing functions dedicated to cruising and racing, such as SailSteer, Laylines and RacePanel. They connect to online services and mobile devices via built-in Wi-Fi and integrate seamlessly with a wide range of tools and accessories to deliver greater safety, performance and fun at sea.
Zeus³ 7 is an intuitive chartplotter navigation system dedicated to boaters and racers, includes a 7-inch touchscreen, high-performance electronics and a wide range of features designed specifically for sailors.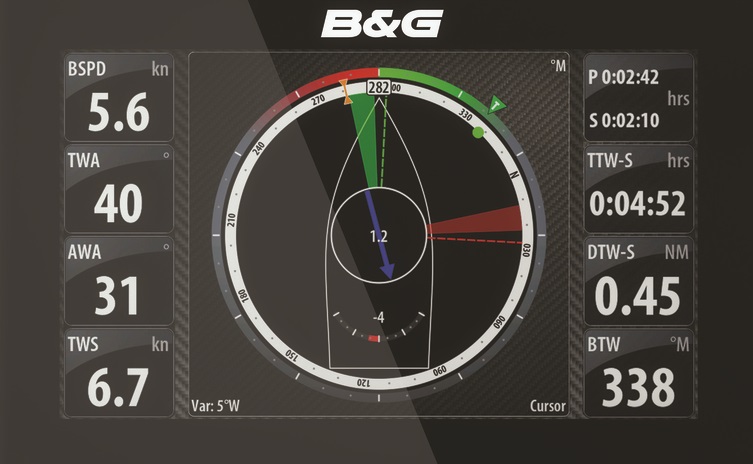 Main functions:
Excellent screen visibility with ultra wide viewing angles
Easy to control, even in adverse weather conditions and rough seas
High performance for fast response operation and fast card redraw
Functions dedicated to sailing, such as SailSteer, Laylines and RacePanel
Built-in Wi-Fi for easy access to charts, weather, updates, support and screen mirroring
Integrated ForwardScan ™ sonar support for safe navigation in shallow water
Perfect integration with other B&G displays and on-board system accessories
Available in 7, 9, 12-inch screen sizes and in the new 16-inch format
High visibility SolarMAX HD display
Choose between 7, 9, 12-inch screen formats and the new 16-inch format; super bright displays with ultra wide viewing angles for maximum visibility from any perspective.
Reliable control in any situation
Zeus³ is very easy to control thanks to the touchscreen that can be used in all weather conditions, even when wet, to the knob and to the keyboard controls that can manage all the display functions in the most adverse conditions.
Ultra fast operation
Thanks to the high-performance processor, the response of the device is super fast and the cards are redrawn quickly, giving you instant access to the data you need.
Software dedicated to sailing
Zeus³ is equipped with B&G software designed specifically for sailors and extensively tested aboard yachts that have traveled the world and on the most famous regatta routes. Includes classic B&G features such as SailSteer (essential sailing data displayed on a single screen), Sailing Time (realistic arrival time for sailboats), Laylines (superimposed on charts with tack angles) and RacePanel.
GoFree® Wi-Fi integrated
Download charts, weather information and software updates directly to the display via a Wi-Fi internet hotspot, remotely mirror the display to compatible smartphones, and remotely take control of compatible tablet devices.
More security
Navigate safely with full autopilot integration for solo or small crew navigation, integrated ForwardScan ™ sonar support, which avoids running aground in shallow water and poorly mapped areas, advanced options such as Broadband Radar ™ with tracking of MARPA targets and AIS overlay, which improve knowledge of the surrounding environment.
Connectivity for an integrated yacht
Zeus³ supports a wide range of B&G expansion modules and connectivity via industry standard NMEA 2000®, to allow the use of a fully integrated onboard electronic system on a yacht. Add sensors and instruments, network displays between different stations and connect with B&G H5000 tactical systems to gain a higher competitive edge in offshore and grand prix racing.