Garmin eTrex 25 GPS Touch
Touch eTrex 25 is the new portable GPS for the whole family for outdoor activities ideal for anyone wanting to take their first steps in outdoor activities, from amateur cyclists and hikers to new hunters geocache.
The eTrex series is the most popular and used between portable GPS for recreation of the last 15 years, and Touch eTrex 25 is the new model of the series, now easier and more convenient than ever. It comes with pre-installed maps of Europe TopoActive and optimized activity profiles for different recreational activities, as well as 250,000 geocache for outdoor adventures without end. In order to be used as of now also by bike, is present in 25 dell'eTrex box a convenient handlebar bracket. Outdoor adventure and fun for the whole family! eTrex will guide you every step of your adventure.
Cartographic portable GPS for easy and fun family to use, with touch screen, altimeter and preloaded maps of Europe TopoActive
Optimized for different profiles of ricreazionali- activities simply choose one and go!
Preloaded with maps of Europe Garmin TopoActive
Support for activities including cycling
Capacitive Touchscreen Color 2.6
Compass 3-axis tilt-compensated
Download tracks and paths to follow for recreation
Digital geocaching with 250k cache preloaded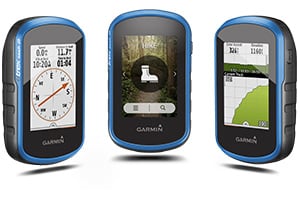 Find your way, the easy way
eTrex Touch works like a real car navigation system, but with maps and functions created specifically for recreational activities, such as hiking or mountain biking. If you have a specific destination in mind or just want to record your activities, eTrex Touch offers you the freedom to explore the world in complete safety. You can also find and download tasks completed by other users Garmin Connect and Garmin Adventures or share your business with the major social networks.
With a simple touch to use, even children can live their little adventure. Touch and parties, it's your time! The activity profiles offer you instant access to customized profiles such as hiking, mountain biking, mountain climbing and geocaching, for having already set the device based on the task chosen. You can explore your outdoor adventures and fun with the whole family knowing to always be in good hands.
Ready to go
eTrex Touch gives you everything you need to live your outdoor adventure whenever desired. It is designed not only to improve the business experience that you choose, but it is also ready to be used straight out of the box.
With the bracket included bike, eTrex Touch is particularly useful for cyclists, who can easily fix their device to the handlebar.
The device comes with preloaded maps of Europe Garmin TopoActive for 46 countries; simply turn on the device, connect to the GPS and start navigating. In addition, the maps can be updated at no additional cost. With an 8 GB internal memory and a microSD card slot it offers plenty of room for more Garmin TOPO maps.
Explore the world of Geocaching
Live the experience of the extraordinary treasure hunt using GPS known as geocaching. With eTrex Touch, geocaching is an activity very practical, with indications of geocache digitized, assessments and hunting logs saved directly on the device, without having to print anything.
eTrex Touch offers extraordinary 250,000 geocaches are also suitable for newcomers for the first time in geocaching - to allow you to become familiar with this activity. All geocaches are provided by geocaching.com, the largest in the world geocaching platform.
DNA eTrex quality
eTrex Touch is the new product of the popular eTrex series of portable GPS devices. Sold around the world, eTrex withstand all conditions and eTrex Touch offers the same strength and endurance.
eTrex Touch supports GPS and GLONASS, giving you the power of two satellite systems, for faster localization and greater precision in the toughest environments. Let eTrex to perform the most difficult tasks in your place - only check your real position and fill.
The device is ultra-rugged, waterproof to IPX7 and comes with a scratch resistant screen. The long battery life (up to 16 hours) and replaceable standard AA batteries provide flexibility when you travel.
eTrex Touch offers all the classic features of the eTrex, such as information on hunting and fishing, the date and time, the sun and the moon, sunrise and sunset, and more.
A companion compact and versatile adventures
This handy device fits easily in pockets and dumbbells. Its format has been designed to handle the device with ease even by children. By using the mounting system clips, eTrex Touch can be installed almost anywhere in the boat, by car, on the backpack, etc.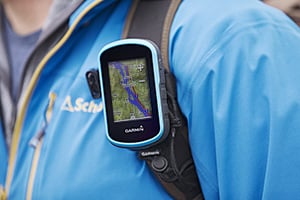 confection
eTrex Touch 25
handlebar bracket
USB cable
Documentation