Garmin GPSMAP 66i
The first handheld GPS device with Garmin maps that integrates an inReach satellite communicator
Large 3 "color anti-glare screen for easy viewing
Sending of interactive SOS to the GEOS monitoring center, for 24/7 search and rescue; two-way text messages via Iridium® global satellite network (subscription required)
Pre-installed Garmin TopoActive Europe maps and unlimited free download of BirdsEye satellite imagery directly to your device; compatible with satellite navigation systems GPS, GLONASS and GALILEO.
Access to the Weather forecast and the Geocaching Live function via smartphone pairing
Compatible with the Garmin Explore ™ app (also available in desktop version) for managing your waypoints, routes, activities and much more.
Internal rechargeable lithium battery that guarantees lasts up to 35 hours of operation in normal mode, with data sending every 10 minutes, or up to 200 hours in expedition mode, with data sending every 30 minutes
Garmin satellite navigation meets global communication in one handheld device: the unique GPSMAP® 66i with InReach® technology .
Ideal for tackling the most difficult trails
The rugged GPSMAP 66i, featuring a large 3 "anti-glare color screen, gives you up to 200 hours of battery life, in expedition mode, using inReach technology. In default mode, the battery lasts up to 35 hours and your device by sending your location to our servers every 10 minutes.
InReach satellite communication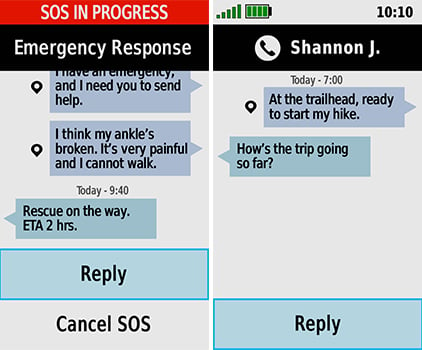 Staying in touch is essential, even on journeys that appear less difficult on paper. Using inReach technology, this device allows you to send an SOS to GEOS monitoring center operators, for 24/7 search and rescue, allows sending and receiving of messages and shares location in real time via the satellite network global Iridium: thanks to GPSMAP66i you can always stay in touch with your loved ones.
Browse in complete safety
GPSMAP 66i offers the best of Garmin navigation. The pre-installed Garmin TopoActive Europe maps offer detailed information of contour lines, peaks, parks, coasts, rivers, lakes and numerous other topographical references. Free, unlimited download of BirdsEye satellite imagery to your device offers high-resolution, photorealistic views of your routes, trails, open spaces, and more. Multi-GNSS support, combined with an altimeter, barometer and electronic compass allows you to take measurements and navigate even in the most hostile environments.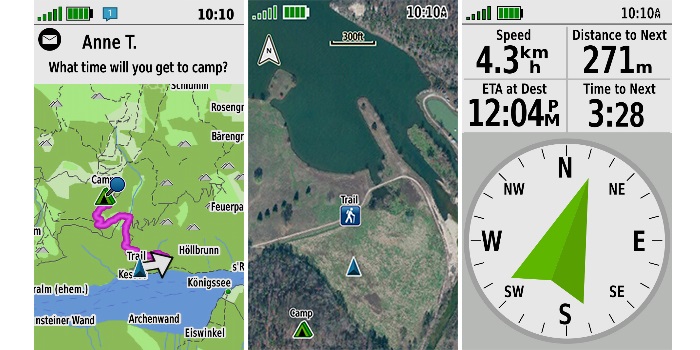 Weather forecast everywhere
Wireless cellular connectivity allows you to access weather forecasts for up-to-date information, including graphical representations of the evolution of temperature, wind, precipitation and fog, right on your device, via Garmin Connect Mobile.
Pair it with your mobile device
The free Garmin Explore mobile app allows you to plan, manage and sync your waypoints, routes, activities and much more. The application also allows you to synchronize the GPSMAP 66i device with a smartphone or tablet to access additional content. Plus, you can use all inReach features on the paired mobile device, such as sending messages. You can access your phone's address book from the Garmin Explore app and quickly reach your contacts. Plan upcoming trips and review previous activities from the Garmin Explore website.
Packaging:
GPSMAP 66i
Access to Birdseye satellite imagery
Charging / data cable
Carabiner for belt
Documentation