Garmin Package gWind Pack V3
GMI 20 Display, Display GNX Wind, wind sensor with cable and transducer echo / log DST 800
Innovative control unit GMI 20
Large and bright color LCD display 4 "
High contrast and anti-glare treatment for the best possible visibility daytime
Maximum visibility at night with red / black colors and green / black
Auto-scroll navigation data
Installing recessed or flush
Featuring a large and bright 4 "display and characters large LCD, the GMI 20 is easy from a distance and from any angle. This new multi-function display is equipped with the best possible visibility at night, with three different color schemes (full color, red / black, green / black) and is perfectly visible in sunlight thanks to the high contrast of its next-generation LCD .
Thanks to its technological design harmonizes the GMI 20 and characterizes any dashboard. The GMI 20 allows the display of more than 100 navigation data, including: speed depth, wind, GPS, engine data and more. Within the GHC 20 box there are two masks: "black" for installations with chartplotter Glass Helm and "silver" for installations with 4000/5000/6000/7000 series chartplotter.
Display GNX Wind
4 data fields in a single instrument
Simultaneously displays four data fields, including real wind, apparent wind, steer pilot, boat speed, depth and lots of essential information for navigation
monochrome display 4 "black-on-white
bonded glass screen that prevents condensation and increases the contrast
Innovative backlight customizable between 7 different colors
reduced energy consumption with only 350 mW without backlight and only 400 mW with mid-level backlight
Compatibility with NMEA 2000® network and ANT + ® technology
wireless compatibility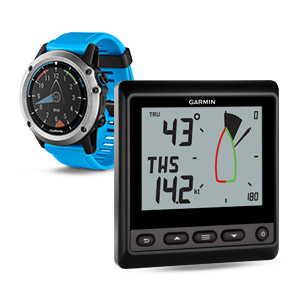 You can connect the new GNX WInd with other compatible devices such as the new quatix 3, the smartwatch for those who go to sea.
wind transducer
Wind Front detection for more accurate data in light winds
Double steering stabilizer
machine readable data for superior performance in the low wind speed
The GND ™ 10 Black box converts the Nexus Network data in NMEA 2000 and allows seamless integration between Garmin chartplotters and Nexus instruments
Plug-and-play Nexus - Garmin NMEA 2000
The transducer gWind, thanks to the wind front detection, provides more precise data in light winds, while the double stabilizer direction provides more reliable data. This type of transducer, unlike those in the cup, ensures greater efficiency. In combination with the optical reading, this transducer provides precision exceeding the reduced wind speed level.
An integral part of the system is the GND ™ 10, a black box plug-and-play solution that converts the Nexus Network data in NMEA 2000, thus allowing users to use the Garmin Nexus instrumentation and vice versa
confection
gWind transducer
GNX 20
GMI 20
GND 10
DST800 Thru-Hull Transducer
NMEA 2000 cable (2 m)
T connector NMEA 2000
for hollow shaft (25 m)
Nexus Network cable (5 meters)
shaft bracket
Mounting Components
User Guide