Many features dedicated to fishing and motor boats and sailing
Check the action-cam Garmin VIRB® and onboard multimedia system
FUSION®
Sport profiles preset and advanced ride dynamics
Smart notification¹ and wireless connectivity via Bluetooth®
EXO ™ antenna on the ring with GPS satellite reception / GLONASS
Water resistant to 10 ATM
Lens anti-scratch sapphire crystal
Share data on board
Connect via wireless to 2000®dell'imbarcazione NMEA network to control numerous onboard sensors: speed, depth, temperature, wind and many others.
sailing functions
Easily set up a virtual starting line between two points (eg. Buoy and committee boat) and synchronize it with the countdown regatta so as to provide the distance and the speed to keep or reach to cut at the exact moment the starting line.
fishing functions
It has a timer for competitions and a catch registration system to help the user to keep track of the number of fish caught and the time left before having to go to the weighbridge.
Still alarm and Man Over Board
quatix 3 has a still alarm to alert the user in the case where the distance from the point still exceed the set threshold.
Garmin is as always safety-conscious: it has a button dedicated to the function 'man overboard' (MOB - man over board) that in the event of an accident, allows you to create a waypoint on your Garmin chartplotter and start the recovery operation in total safety.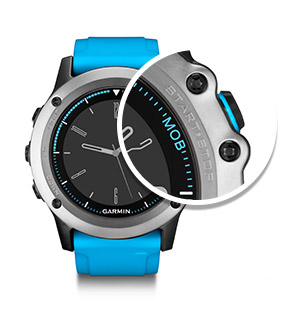 remote control
With the new quatix 3 you can control the action-cam Garmin VIRB® and multimedia system on board FUSION® from any location on the boat. You can adjust the volume, change tracks and more. "
Action Room VIRB® XE
Designed to withstand the most adverse conditions
quatix 3 is designed to satisfy the passions of all sports, this model is equipped with EXO ™ antenna coated PVD straps in different materials and scratch resistant sapphire glass. The Chroma ™ color screen high-resolution LED-backlit anti-glare, allows you to access data in any lighting condition.
Many sports, one device
quatix 3 was also designed with athletes in their sports and outdoor activities. Has multisport profiles to practice running, cycling, swimming, trail running, rowing, indoor workouts, cross country skiing, as well as triathlon and recreational activities such as hiking, indoor and outdoor rowing, SUP, climbing, skiing in the downhill and more.
Use quatix 3 in water ...
Thanks to built-in accelerometer, quatix 3 keeps track of the distance, the pace, the number of strokes and efficiency of your strokes. Wear it to swim in open sea and in the pool to keep an eye on your heart rate thanks to bands cardio-Swim ™ HRM and HRM-Tri ™ (sold separately).
"HRM-range Swim ™
"Tri-Band HRM ™
... to run
quatix 3 is a sophisticated Garmin watch for the race that provides feedback on the progress of the race viewing different metrics. When used with the HRM-Run ™ band (sold separately), quatix 3 tells the cadence, vertical oscillation and the contact time with the ground. These measurements are known as a travel dynamics and affect the progress of the race. »Band HRM-Run ™
... or for any other sport!
quatix 3 provides complete metrics including number of shots, pace and efficiency of the paddle, while allowing the use of the Virtual Partner function during exercise in order to have constant feedback on your performance in real time.
Whichever sport you choose to do, quatix 3 measures the real-time performance, recognizes the assets for sharing on Garmin Connect ™ and brings you home at the end of an adventure.
Customize it as you wish
Customize quatix 3 with free downloads from our store Connect IQ ™. You can customize the dial of your watch, add data fields, and download apps and widgets that provide information at a glance.
Your fitness band
Wearing daily quatix 3 and list of steps, distance traveled and calories burned throughout the day to maintain a healthy lifestyle even when you train. Then download the data via your smartphone app and free Garmin Connect ™ Mobile.
Smart notification
Quatix 3, thanks to the integrated Bluetooth module, offers the Smart Notification function. Every time you receive a notification SMS, calls or e-mails from associated smartphone, quatix 3 vibrates slightly and allows you to automatically display information on dell'orologio¹ display information.
App for your everyday life
Download the free Garmin Connect ™ Mobile app on your compatible smartphone. You can download Wireless workouts and activities recorded from your quatix 3 and share your progress with friends and family. also for your safety, you can follow during a training session via LiveTrack.
'App for iOS
"App for Android
"App for Windows Phone
confection
quatix® 3
Leather black strap
Strap blue silicone
Screws and Torx Keys
USB cable / charger
AC adapter plugs for Europe and the UK
Documentation