Garmin echoMAP PLUS 92SV Chirp
GT54 transom mount transducer included
Revolutionize the best
Combined chartplotter with bright 9 "display and keyed-assist touchscreen, an innovative keyboard-assisted touchscreen system.
Internal 5 Hz GPS updates position and heading 5 times per second.
Integrated sonar module with traditional CHIRP technology, CHIRP ClearVü ™, plus compatibility with Panoptix ™ technology
The integrated Wi-Fi® connectivity allows access to the ActiveCaptain ™ world, the new completely free application that allows you to have a unique experience with Garmin Marine instruments installed on board
The new ECHOMAP ™ UHD series combo chartplotter, available with a bright 9 "color display, features Ultra High-Definition, Traditional CHIRP, CHIRP SideVü ™ technology.
Visualize what's around and below the boat in incredible detail with an optional transducer
Compatible with BlueChart® g3 & g3 Vision® HD and AutoGuidance features
7 "and 9" dispays share data such as routes, waypoints and data with ECHOMAP ™ Plus, ECHOMAP UHD and ECHOMAP Ultra
Manage your browsing experience wherever you are
Total management of the new Force ™ electric motors.
CHIRP technology
Unlike traditional fishfinders that send only one frequency at a time, CHIRP technology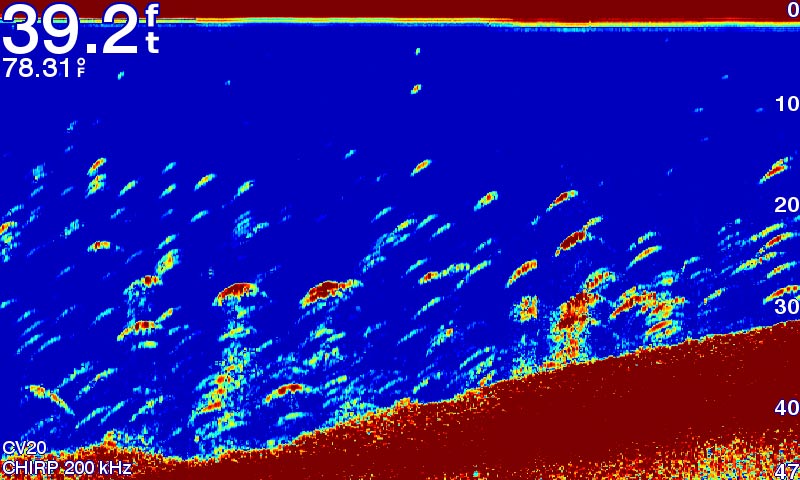 simultaneously sends a signal on several frequencies, from high to low, then interpreting the echo of each single
frequency. This continuous spectrum provides more information to the CHIRP sonar, which uses it
to process sharper, high-resolution images.
ClearVü and SideVü technology
Garmin CHIRP ClearVü scanning sonar provides ultra-sharp images of objects under your boat. You can view structures, underwater objects and fish.

Quickdraw Contours
Quickdraw Contours allows you to trace your HD bathymetry every 30 cm in total autonomy.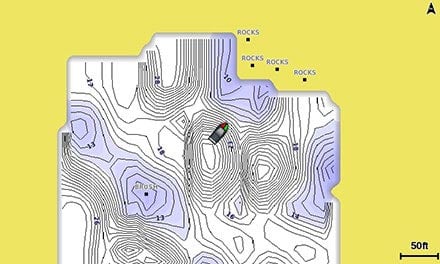 Quickdraw Contours is really simple to use. Once activated, the user can check on the display
of your Garmin chartplotter the boat's course as it navigates and see the depth of depth
that are drawn directly on the map. The procedure is immediate: the new data are immediately available
for use and can be shared with friends and fishing companions, thanks to the Quickdraw Community on
Garmin Connect ™.
ActiveCaptain
Make the most of the potential of the innovative ActiveCaptain ™ application that allows you to connect Garmin Marine chartplotters to the mobile network and access a new world of content: consult, purchase, update and synchronize nautical charts; update the on-board devices quickly to the latest software version available; view and control the chartplotter from any position on board the boat on a smartphone or tablet; receive Smart Notifications, calls and SMS directly on the chartplotter display; connect with the ActiveCaptain community to get updated information on marinas and new points of interest, thanks to updated feedback from thousands of other users; plan navigation in advance from the comfort of your home; quickly and easily download and share bathymetry from the Quickdraw ™ Community; automatically synchronize routes and waypoints marked on the chartplotter to review all data anywhere on your mobile device.
The new series of combined chartplotters also includes specific functions for sailing such as Laylines, Pre-race Guidance, Race Timer, Starting line and provides new data fields dedicated to the world of sailing such as Wind Rose, Vectors Heading and COG, Direction, wind speed and tide data.
BlueChart® g2 HD
The ECHOMAP ™ Plus series supports BlueChart® g3 HD cartography also in the Vision ™ version, in addition to the new
GARMIN NAVIONICS
charts that allow advanced functions such as high resolution satellite images, perspective views and 3D viewing above and below sea level, photos of ports, bays and marinas and the innovative Auto Guidance 3.02 technology that automatically works out the best route.
Panoptix
It supports the latest generation Panoptix transducers that allow you to scan and view in real time everything that happens in front of or under the boat, guaranteeing an exact and extremely realistic perception.
NMEA 2000® compatibility
Thanks to the NMEA 2000® network, it is possible to view information from the engine, sensors and autopilot directly on the chartplotter display.
Quick release bracket
New snap-release bracket with integrated power and data cable for easier use.
Packaging
echoMAP UHD 92SV
GT54 stern transducer
Power / data cable
Quick release support
Flush mounting kit
Brackets for installation on the stern or on electric motor
Fast guide