Simrad Cruise is the most intuitive and easy to use chartplotter available. Everything you need to enjoy simple and straightforward GPS navigation is already in the box - an anti-glare display, a mounting bracket and a sonar transducer. Simrad Cruise can display charts, navigation data and sonar in a split screen view or separately in full screen. The rotary knob and keypad controls allow you to navigate menus, create routes and easily access data on temperature, speed, depth and battery voltage.
The new Simrad Cruise 9 is the most intuitive chartplotter available. Improving ease of use to unprecedented levels, Simrad Cruise is a chartplotter and depth finder that offers reliable GPS navigation at an affordable price. Without the complicated functions of fishing-specific sonar and networking, with Simrad Cruise you don't have to master complex technologies, you just need to turn on the display and set sail.
Easy navigation between menus
Simrad Cruise includes intuitive menus to quickly find the information you need at any time, and a rotary knob and keyboard controls make it easy to switch between screens. Forget the instruction manual; with Simrad Cruise, simply turn on the display and set sail!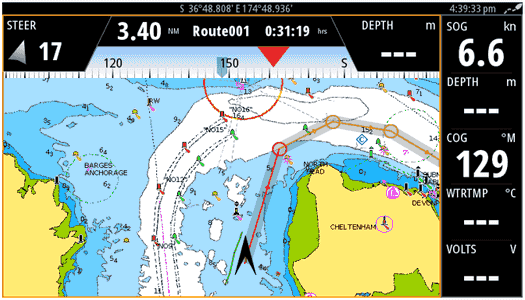 Always on course
Find out where you are and where you are going! Choose from a wide range of optimized charts, from C-MAP® to Navionics® and use advanced features like C-MAP® Easy Routing for an unparalleled navigation experience.
Everything in sight
View the details you want in the way you like! Simrad Cruise offers both split and full screen views, so it's easier to see the information you need. Do you want to chart a course? Select full-screen maps to get a complete overview of your surroundings. Want to know what's on the bottom? Choose full screen sonar for a clear view of the bottom and automatic depth detection. Do you want to see everything? Use the split screen option to seamlessly combine chart and sonar data.
Stay up to date
Simrad Cruise gives you access to the information you need to navigate with confidence and peace of mind. Readings of depth, position, battery voltage and other important information about the vessel can all be monitored on the screen for quick reference and greater knowledge of the surrounding environment.
Main functions:
Navigate confidently with intuitive menus, an easy-to-use rotary knob and keyboard controls
Intuitive menus, easy-to-use rotary knob and keyboard controls
World basemap preloaded
It supports a wide range of optimized maps, from C-MAP® to Navionics®
Pre-selected split screens to keep important data in view
View depth, location, battery voltage and more