Enhance your vision and fish more with the new HDS PRO fishfinder / chartplotter. Watch fish react to your bait with new high-resolution ActiveTarget® 2 Live sonar and locate schools and structures where they hang out with new high-definition Active Imaging™ HD. Find fishing spots quickly with the latest C-MAP® charts using a fully connected fishing system and flawless boat control from bow to stern.
Main functions
SolarMax™ HD touchscreen viewable from any angle and with polarized lenses
Novelty! 1.2 MHz HD High Definition Active Imaging™ Ready (Lowrance CHIRP/SideScan/DownScan Imaging™)
Novelty! Ready for ActiveTarget® 2 Live high-resolution sonar
FishReveal™ with new SideScan view and Downscan view
Screen available in 9", 10", 12" and 16" sizes
Worldwide basemap with the ability to upgrade to C-MAP® DISCOVER and REVEAL or other chart providers.
Real-time mapping available with C-MAP® Genesis Live.
Support for the new ActiveTarget® Scout and Ghost® Trolling Motor 360 chart overlay views
Large programmable keys for 10", 12" and 16" models
Touchscreen control of Power-Pole® anchors, Ghost® Trolling Motor, autopilot and Lowrance outboard pilot
Wireless connectivity, Bluetooth® and NMEA 2000®, plus smartphone notifications
Wide range of optional chart upgrades, including C-MAP® REVEAL, Navionics®, Florida Marine Tracks and more.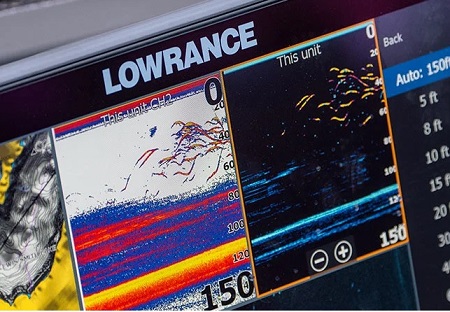 SOLARMAX™ HD
The SolarMAX™ HD touchscreen delivers pictures
breathtaking fish, texture and detail
maps visible from any angle,
under direct sunlight and through lenses
polarized: characteristics that make the
difference in water.
ACTIVE IMAGING™ HD
Active Imaging™ HD, our clearest sonar
ever, offers high-definition views of sonar
Lowrance CHIRP, SideScan and DownScan Imaging™.
MAXIMUM CLARITY
The better the visibility, the better your catches will be.
From the high-definition touchscreen display to the extreme clarity of new optimized Lowrance sonar, the HDS® Pro has it all
complete with useful underwater views that will make your fishing experience exceptional.