The Garmin Boat Switch lets you control onboard utilities directly from your GPSMAP® or ECHOMAP™ chartplotter
Reduce your reliance on traditional circuit breakers and fuses. Add digital control and software current monitoring.
Operate lights, pumps, siren and more. Just tap the compatible chartplotter.
Full or empty? Observe the levels of the four tanks for fuel, fresh water, fresh water, waste water and livewell.
Observe the system status. Monitor battery voltage, bilge pump operation and more.
Put everything the way you want. Place and name switches with an easy-to-use interface.
Fit your vessel. No special tools or setups are required.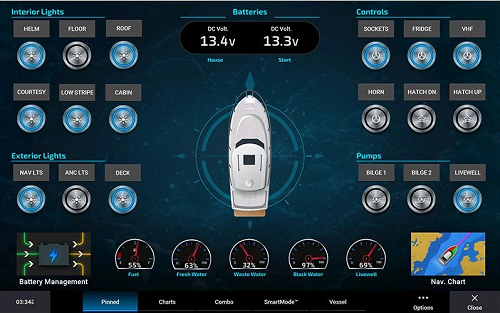 ALL IN ONE
Replace existing two-piece systems
(fuse box and circuit breakers) to facilitate checking e
the use of on-board functions.
DIGITAL CONTROL
Get control and internal protection of up to 20 circuits
directly from your Garmin chartplotter, rather than
install cumbersome physical buttons or switches.
ON/OFF SWITCHES
The 'toggle' outputs allow you to control pumps of
bilge and non-dimmable lights, such as the lights of
navigation or courtesy ones
CHECK THE TANKS
Experience the detection and calibration of built-in transmitters for up to four tanks: fuel, fresh water, white water, black water and livewell.
ADDITIONAL INPUTS
Look at the analog voltages of the service battery and starter battery, check the operation of the bilge pump and connect the optional physical switches.
LIVE TANK TIMER
A built-in timer activates the water pump to keep fish alive and to extend the life of the pumps.