Simrad NSS evo3s 12 Display 12 "
New version S
THE MAXIMUM IS IMPROVED EVEN
Make the most of your browsing experience
Take total control of your experience at sea. SolarMAX® IPS displays deliver exceptional clarity and ultra-wide viewing angles in all light conditions, while the new high-performance IMX 8 processor delivers super-fast response times for seamless screen transitions. Choose from weatherproof touchscreen technology or rotary dial keypad for control that adapts to any situation. It's easy to monitor and control all onboard electronics with simple menus, customizable split-screen layouts, and a programmable function key for one-button access to the features you use most.

MAPPING PERFORMANCE - BETTER FUNCTIONALITY
With half loading times, the choice of any combination of split screen with 3D views or Navigation perspective, functionality has been enhanced to levels never before seen.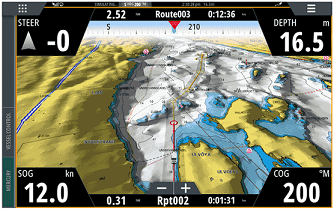 POWERFUL USER INTERFACE - BETTER USER EXPERIENCE
Greater monitoring and control within the existing page: the orientation of the chart changes immediately with the push of a button, the audio sidebar becomes expandable and a tide graph in the toolbar helps to monitor the changes in the tides.

HIGH DEFINITION DISPLAY - IMPROVED ANTI-GLARE
Get clear vision in all lighting conditions thanks to the IPS SolarMAX ™ technology, which allows you to keep everything under control thanks to the ultra-wide viewing angles, even when wearing polarized sunglasses. These all weatherproof screens have been designed to withstand the heat of the summer sun and feature an optical coating that prevents condensation or vapor from forming inside the display. It's super easy to instantly access and control all of your onboard equipment with simple menus and customizable split screen layouts.

ALL WEATHER SCREENS - MORE CONTROL
SolarMax ™ IPS displays combine touchscreen and keyboard for all weather conditions for total control in all conditions.

FAST AND SIMPLE NETWORK CONNECTIVITY - BETTER CONNECTIVITY
Industry-standard connectivity makes it easy to configure multi-display systems and connect displays to any onboard electronics, while the new high-performance iMX 8 processor ensures real-time engine and fuel monitoring as well as systems control on-board audio and much more. Expand your system with Simrad modules and accessories; fish smarter with the revolutionary S5100 or StructureScan® 3D technology; look further with the legendary HALO ™ impulse compression radar and entrust the rudder to a fully integrated Simrad autopilot.

ADVANCED SONAR - BEST FISHFINDING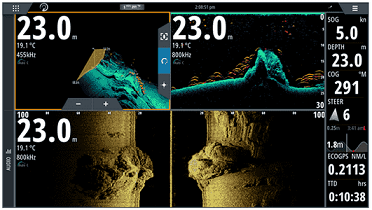 Integrated high-performance sonar with 1 kW CHIRP-enabled sonar, delivering exceptional detection performance
of the seabed and fish. SideScan and DownScan Imaging ™ enhanced by StructureScan 3D, ActiveImaging ™ for photographic images of the
fish facility, clear seabed views forward with ForwardScan® sonar or sport fishing performance with sonar
S5100 for deep water.
You simply need to add your choice of transducer. The 1 kW CHIRP compatible sonar offers exceptional performance of
bottom monitoring and fish detection, including support for dual channel CHIRP transducers, which provide coverage of
multiple depth ranges in a single unit. The two transducer ports offer the convenience of connecting multiple transducers to a single display.
Unmatched data processing power allows you to easily activate Active Imaging ™ technology, which delivers images to
very high resolution of fish holding structures, but also ForwardScan® sonar, which is able to offer the experience in
safer sea than ever thanks to clear views of the seabed in front of the boat.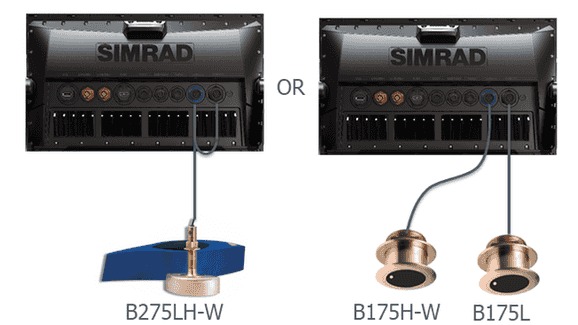 EASY APP INTEGRATION
You can mirror your display with compatible iOS and Android devices and access charts, radar, sonar, engine data and more from anywhere on board the boat. Wireless connectivity also allows you to easily update software online via any Internet hotspot, giving you access to the latest features and support for accessories. Alternatively, you can download the Simrad app for an even richer experience - from device registration and manual downloads to the ability to save your favorite waypoints and fishing spots, which will be accessible both on board and ashore.